Mid-December, a one-day seminar about conflict resolution structures was given in Adjumani Town, Resident District commissioner's Hall. It aimed to equip the committees with knowledge and skills in conflict resolution and management, especially in the scope of scarce natural resources.
Specific objectives
To train the selected structures on how to resolve conflict and tension related to environment and natural resources.
To train the structures on how to facilitate inter and intra community dialogues on identified conflict related to environment and natural resources.
Conclusion
The training was deemed successful. 20 committee members were present and got an in-depth schooling about concept of conflict, type of conflict, common causes of conflict over natural resources and effect of conflicts, natural resources in the community, tools for preventing and managing conflicts, ways of building consensus among the conflicting parties and roles of conflict Resolution Committee and reporting. There was experience sharing of different conflicts that is happening within the community. Among others discussed was other causes of conflict in community other than conflict over natural resources.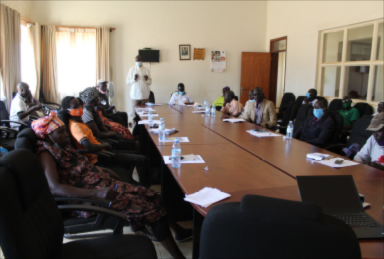 Capacity building training for Conflict Resolution Structures in four sub counties of Adjumani Town: Ciforo, Pachara, Itirikwa and Ukusijoni and Agojo, Alere, Mungula 1&2, Maaji 1, 2&3